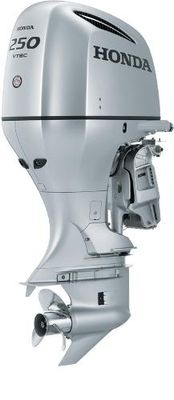 2019 Honda BF250iSt
N/A
Redefining best in class.
The BF250 iST offers Honda's exclusive Intelligent Shift and Throttle, or iST. iST provides all the features boaters are looking for, including:
Allows for up to 4 engines and 2 control stations
Effortless control
Fine tuning of throttle settings at any speed
Enhanced docking and slow speed control
User-programmable system defaults
Simple, easy to understand user interface

Of course, the BF250 iST also includes tried and true exclusive Honda technology. Like the BLAST system for a vastly improved hole shot, VTEC technology for more power where and when you want it, and Lean Burn Control for optimal fuel economy. These technologies deliver on Honda's promise of unparalleled performance, power and fuel efficiency.

Combine all this with Honda Marine's True 5 Non-Declining Warranty, Honda's legendary quality and reliability, and our award winning dealer network, and you've got the right power plant for your boat.
Specifications
Cooling System
Water Cooled
Lubrication System
Wet Sump
Fuel Induction System
Programmed Fuel Injection
Ignition System
MicroComputer Programmed